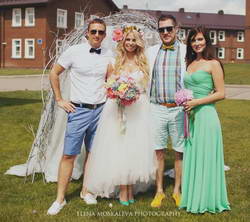 On the wedding day many things can go wrong, despite the detailed planning and careful preparation. But there are two "wizards", so that you never even know it, and will remember only a fabulous day, which turned out exactly as you dreamed.
One of these wizards is your wedding planner, and the second, perhaps the most important is your magician Photographer.
It is a good wedding photographer who can make the impossible possible , turn a rainy day into a shining one, catch all the emotions of the guests in his camera to capture the most necessary, most gentle, most pulsating moments forever remembering them, so that your granddaughter will dream of such a wedding, which was yours.
Best Photographer, which we know is Elena Moskalyova and her project Lemonless Photography.
Check yourself!
lemonless.livejournal.com