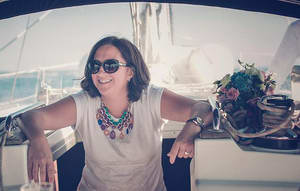 Hello!
Let me introduce myself! My name is Olga , I live in the Croatian city of Pula, on the Istrian peninsula and I am engaged in the organisation of weddings , weddings parties and wedding celebrations. I confess , without false modesty , that I know all Pula and everybody - what, where, how, when , how much and that's what makes my job a wedding organiser easy and enjoyable. You will get exactly the celebration you dreamed of, whether it is a luxury wedding for 200 guests in the palace from Austro-Hungarian era, or a warm dinner in authentic Mediterranean fish restaurant .
Our company "Orcinus Orca" performs brokerage services for organising weddings and celebrations in Croatia. These responsibilities also include consulting support in the preparation of documents for marriage .
Travel agency "Orcinus Orca" will provide your guests with accommodation in our database of more than 50 hotels and apartment complexes , as well as accomadation in the private sector .
We organise tours throughout Croatia with an English-speaking guide , cruises on yachts, as well as all types of active and beach holidays . Our diving center " Orca " is open to all, and turnes scuba dive way into unforgettable beauty of the underwater world of the Adriatic.